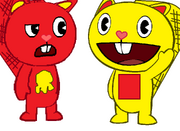 Kettle and Caramel are beavers. They are brothers.
Descriptions
Edit
Kettle is a red beaver. He has a popcron shaped marking and is Caramel's older brother.
Caramel is a yellow beaver. He has a caramel cube shaped marking.
Kettle is always confused, while Caramel is always happy.
The two will get injured in oath to order.