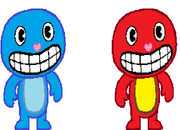 Coldly and hotty are an alien duo. They crash landed on earth. Coldly is older than hotty. Coldly is friends with frostbite and cro-marmot. Hotty is younger than coldly. his friends are spicy and fyre.
There voices are simlilar's to zim's Voice from Invader zim.
Coldly is yet to kill someone.